Update for Employers - Support during construction industry shut down
Posted on Sept 20, 2021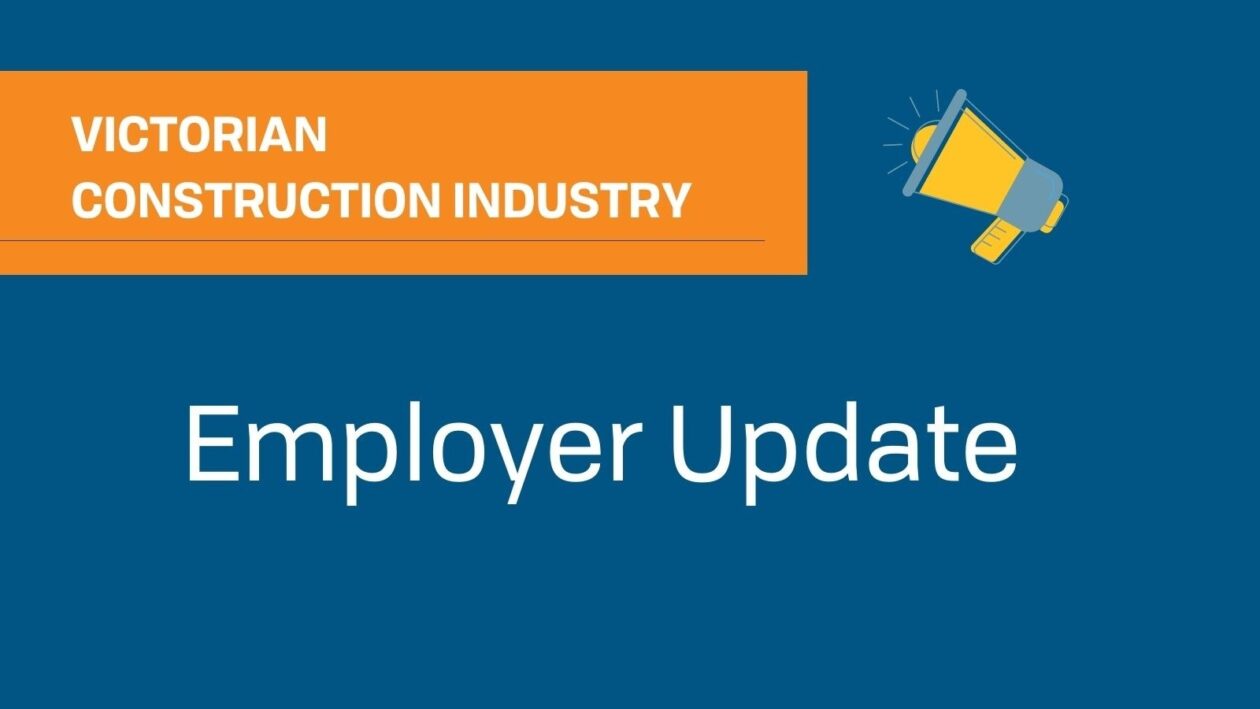 The Victorian Government has announced that the construction industry in Metropolitan Melbourne, Ballarat, Geelong, Mitchell Shire and Surf Coast will be shut down for 2 weeks commencing 11:59pm Monday 20 September.
We will continue to be the safety net for you and your workforce during this challenging time and provide you information regarding access to financial support, vaccination bookings and wellbeing services.
Eligibility for Redundancy or Severance Payments
At lncolink, we have done our best to deliver flexible solutions which help people through the worst of the shutdown. There are Commonwealth Disaster payments of $750pw, and lncolink COVID-19 hardship payments of $2,000 per month.
At the end of this industry shutdown, we anticipate most employees will resume work with heir same employer. That means workers are not terminated in accordance with tax law.
Workers who are stood down are eligible for COVID-19 hardship payments from their account balance, but they are not eligible for severance or genuine redundancy.
Entitlement to redundancy or severance payments depends on the relationship between worker and employer ending. If the employee resumes work with the same employer after claiming redundancy or severance through lncolink, it could be flagged by the ATO, and liability sits with the individual and employer.

Incolink COVID-19 Payments
Eligible worker members can access an Incolink COVID-19 payment of $2,000 or the balance of their account (whichever amount is lower) if you have to self-isolate or if you are stood down. You can re-apply for this every 28-days if you continue to be eligible and funds remain in your account.

Employers must also complete a declaration via EmployerLink to confirm the conditions above.
How to make your workforce eligible.
STEP #1 – Login to EmployerLink and head to Manage Workers.
STEP #2 – Search/filter for the relevant worker/s and click their member number to edit their status.
STEP #3 – Select Change Employment Details
STEP #4 – Check the COVID-19 Payment Eligible checkbox
STEP #5 – Save changes.

Once this is completed, worker members can access COVID-19 Claims by logging into their WorkerLink account.
Eligibility Criteria
If a worker is not earning an income from their employer (including leave entitlements) because:
of site closures by their employer due to COVID-19; or
they are required by to self-isolate due to exposure to COVID-19 for any period prescribed by federal or state governments
then they can claim the Incolink COVID-19 Payment.
Employers must also complete a declaration via EmployerLink to confirm the conditions above.
Please note: as this is not a genuine redundancy payout, Incolink is required by the ATO to withhold tax from COVID-19 payments at a rate of 32%.
Call us on 03 9639 3000 to find out if you're eligible.

Business Support
Updates regarding support for business will be published here as they become available.
Counselling and support is available to workers and their families any time of the day or night. Simply call 1300 000 129 to talk.
Other news you might like