About Incolink
Incolink is Australia's oldest, largest and most comprehensive workers' entitlement scheme. Incolink is the safety net for the building and construction industry.
Incolink provides a safety net for workers in the commercial building and construction industry where permanency and continuity of employment are significant issues. Our members get the security of redundancy payments, portable sick leave, income protection insurance and industry-best training. Through sound investment of member entitlements, we fund health and wellbeing supports like counselling and mental health services to build a stronger industry and help workers when they need us most. We are Australia's largest provider of severance benefits and income protection, and a true employer and union partnership.
Rebecca Casson
President (Since 2022)
Rebecca is the President of Incolink, which is the largest worker entitlement fund in Australia. She is the first woman to be appointed to that position in the organisation's 32-year history.

Rebecca is also the Chairperson of the Victorian Government's Building Industry Consultative Council, which is a forum for discussion on economic and industrial relations issues in the building and construction industry. She is the first woman to be appointed to that position in the Council's 21-year history.

Previously, Rebecca was the CEO of Master Builders Victoria. She was the first woman to be appointed to that position in the Association's 147-year history. In her time at Master Builders Victoria, Rebecca led the Association through what can only be described as a journey of positive transformation during a notably tumultuous COVID-impacted period.

Additionally, Rebecca steered the building and construction industry through one of the greatest challenges we will see in our lifetime by successfully navigating the complex waters of the COVID-19 pandemic. In recognition of her efforts in leading through a crisis, Rebecca was inducted into the 2021 Victorian Honour Roll of Women.

Rebecca has a strong background in government, industry, and the not-for-profit sector. She has held senior roles across a wide range of portfolios including international engagement, government relations, corporate diplomacy, and major projects, together with public policy development and implementation. She is also a published author and academic.

Rebecca is currently an Advisory Board member on the Victorian Skills Authority, and she has previously served on the Boards of Master Builders Insurance Brokers, Development Victoria, and the Kardinia Park Stadium Trust.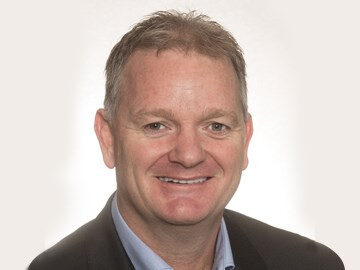 Earl Setches
Director (since 2002)
Earl has been actively involved in the plumbing industry for 30 years. In 2001 Earl was elected State and Federal Secretary of the Plumbing Trades Employees Union, and he has held both roles ever since. Earl is also Chair of the Plumbing Industry Climate Action Centre and Indigenous Plumbing and Sanitation Foundation, and is a Board Member of the Victorian Building Authority Plumbing Advisory Council, the Building Industry Consultative Committee, Incolink, CBus and the Plumbing Joint Training Fund.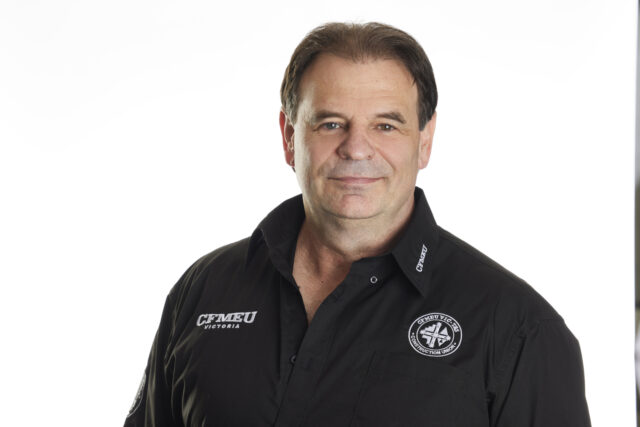 John Setka
Director (since 2022)
Born and bred in Melbourne's western suburbs of Footscray, John Setka, has been a union man all his working life. Once he completed his apprenticeship as a motor mechanic, from the age of nineteen he began working as a builders' labourer, following in the footsteps of his father Bob, who was a Rigger and was working on the West Gate Bridge when it came down in 1970, he was able to see firsthand the improvements that the union made on the job.

"Seeing the union in action and seeing the results they delivered inspired me to be a union activist," he says.

It was not long before he drew the attention of the union leadership of the late John Cummins President of the BLF, who employed him as an organiser in 1986 at the young age of 22.

John is proud of the achievements of the CFMEU and under his leadership wants to strengthen and broaden the union presence on building sites in Victoria, so that more workers receive EBA pay and conditions.

John served four years as Assistant Secretary of the Victorian CFMEU before being elected in 2013 to lead the Branch.

John joined Incolink as a director in January 2022, and has completed the AICD Foundation for Directors course.
Michaela Lihou
Director (Since 2021)
Michaela leads the development of Master Builders Victoria's corporate strategy and empowers the MBV team to live and inspire MBV's values, and consistently strengthen their capabilities. Her customer-centric team adds value to MBV members and customers and helps them succeed through the provision of OHS, IR and Legal advisory services and solutions.
Peter Daly
Director (Since 2021)
With more than 20 years' experience in senior leadership roles in the corporate and not-for-profit sectors, Peter has a deep understanding of membership organisations and a proven history of working successfully with government and industry to build consensus around business and public policy outcomes. He is a Civil Engineer and a member of the Australian Institute of Company Directors. Peter is the CEO and Secretary of Master Plumbers and Mechanical Services Association of Australia, member of various government advisory bodies and Director on the board of a number of business entities and charitable organisations.
Adam Darby
Director (Since 2021)
Adam is the Managing Director of Wagstaff Piling Pty Ltd, an Australian owned foundation engineering contractor with operations nationally and in New Zealand. Prior to becoming Managing Director, Adam was the Group Finance & Strategy Director. Adam has a professional background in finance and law.
Robert Graauwmans
Director (since 2022)
Born and bred in Geelong, Rob has been a member of the CFMEU since 1996, coming from the FEDFA side of the Union.

Rob worked primarily interstate for the first 8 years of his working life both as a Rigger and Crane Operator.

Rob joined the CFMEU as an Organiser in 2006 and spent 5 years Organising in the Western District.

Moving from Geelong to Melbourne in 2011, Rob was appointed the Organiser for Mobile Cranes as well as Organising in the Eastern Suburbs.

He was elected as Vice-President in 2016 and at the turn of the 2020 ticket, was elected President.

Rob's vision is to broaden and diversify the Union so more people can enjoy the benefits of being a Union member. He has a strong commitment to achieving justice, fairness, equality and dignity for all workers.

Rob joined Incolink as a director in January 2022, and has completed the AICD Foundation for Directors course.
Claire Filson
Independent Non-Executive Director (Since 2022)
Claire is an experienced non-executive director with more than 20 years' experience on State and Federal Government boards and in superannuation and infrastructure businesses.

Chairing audit, risk, finance, and remuneration committees, Claire has experience in superannuation, insurance, funds management, infrastructure and property including ports, roads, rail and utilities. Her knowledge and skills include corporate legal advice, strategic risk management, compliance and governance.

While working in private legal practice, Claire was a construction lawyer working for major national law firms in Perth and Melbourne.

Claire currently sits on the board of Greater Western Water in Victoria, and is the Deputy Chair of the Port of Hastings Corporation, the Portable Long Service Benefits Authority and the Indigenous Land & Sea Corporation.

She is also Chair and independent member of the City of Kingston Audit and Risk Committee.
Giovanni Abelardo
Director (Since 2023)
Giovanni has 15 years of Human Resources experience and 12 years in Senior Leadership roles, predominately within the building and construction sector. Currently Giovanni provides leadership to the Master Builders Association Victoria's (MBAV) People and Member Services teams, covering, Advisory, People and Culture, Marketing and Communications, Projects and Membership.

Giovanni is also an Alternate Panel Member on the Victorian Building Industry Disputes Panel.
Elizabeth Doidge
Director (Since 2023)
Elizabeth Doidge is a current Melbourne City Councillor, and has a proud career in the trade union movement, playing a key role in communication and stakeholder engagement.

Elizabeth is the City of Melbourne portfolio lead for Sustainable Building and deputy portfolio lead for Environment and Creative Melbourne portfolios.
Erik Locke
Chief Executive Officer
Niall Keane
Chief Financial Officer
Benjamin Maxfield
Executive General Manager, Services
Christian Bombig
Executive General Manager, Growth
Tristan Zwalf
Executive General Manager, Operations and IT
Samantha Ellison
Senior Legal Counsel and Company Secretary

Conduct annual reviews of staff salaries and remuneration for members of the Board and implement any decisions of the Committee resulting from any such review.

| Name | Position |
| --- | --- |
| Rebecca Casson | Independent Chairperson |
| John Setka | Director |
| Michaela Lihou | Director |
| Samantha Ellison | Committee Secretary |
Review the financial performance of Incolink, oversee the audit program, and oversee the management of risk in accordance with the Risk Management Framework.
| Name | Position |
| --- | --- |
| Claire Filson | Independent Chairperson |
| Adam Darby | Director |
| Michaela Lihou | Director |
| Robert Graauwmans | Director |
| Earl Setches | Director |
| Niall Keane | Committee Secretary |
Annual Report
Incolink's annual reports illustrate how we go about being the construction industry safety net.
The report outlines our financial position and our investment performance, in line with our investment strategy.
We also highlight the vital partnership and sponsorship arrangements we have with organisations, government bodies and service providers which assist us in delivering for our members.

In 2020, we shifted to a fully digital reporting format. Visit report.incolink.org.au to access the latest Annual Report.
You can view our Annual Reports in a fully digital format by clicking on the links below.
You can also access downloadable versions of past Incolink Annual Reports below.

For further information please contact marketing@incolink.org.au.
Investment Strategy
We manage investments that are held in trust in a responsible and professional manner for the best risk-adjusted returns for members and industry stakeholders. This means we can readily meet member claim obligations, fund our operations, meet the wellbeing and support needs of our members, and reinvest back into the industry.
We fund skills-based registered training providers and industry led OH&S Training and Awareness projects.
Incolink constructs its portfolio by investing in a broad range of diversified asset classes with the required blended risk and return characteristics. An external investment consultant is engaged to provide expert advice to management and directors on the composition of the portfolio and external fund managers appointed to manage these strategies.

| Return objective (i.e. what the investment portfolio should achieve) | Funding target (i.e. the amount of investment assets compared to member liabilities) |
| --- | --- |
| 4.5% after tax and fees (or approximately 6.5% before tax and fees) | 110% (or assets are 10% more than the liabilities) |
Incolink measures the true success of investment performance against the return objective over rolling four-year periods. Over the four years to 30 June 2019, Incolink's investment portfolio outperformed both the market benchmark (7.5% vs 6.7%) and the return objective (7.5% vs 7.4%).
Incolink's funding coverage buffer as at 30 June 2019 stood at 126%